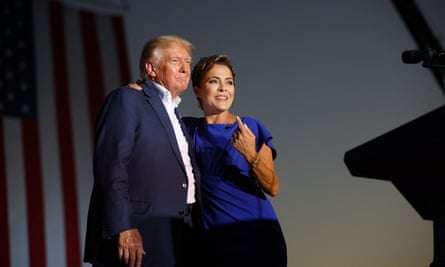 "Local news anchor Kari Lake resisted announcing that Joe Biden had won Arizona on election night two years ago. Since then, she'd become the telegenic new face of Maga Republicanism, poised to possibly become the state's next governor."
If Lake won, her administration would oversee the 2024 elections in a key state that could help determine who wins the presidency. She could work with the likes of Mark Finchem, the far-right Oath Keeper, running to become the state's top election official. She made it clear she would only accept the 2022 election results if "fair, honest and transparent" by her standards, declining to say whether she would accept defeat.
On the night Lake won the Republican primary, she walked on stage carrying a sledgehammer and vowed to use it on electronic voting machines if elected governor. Instead of machines, Lake wants to use hand counts to tabulate elections – a method that is both more time-consuming and less accurate – while also insisting that results should be declared on election day. She has threatened to punish journalists for publishing content she disagrees with and imprison her opponent over fictional accusations of election rigging.
For 22 years, Lake was a familiar face on local TV – delivering the evening news at Fox 10 Phoenix in her smooth, deep voice. But on election night in 2020, she resisted calling the election for Biden, as her co-anchor awkwardly insisted that they follow protocol.
Lake, a TV pro, still delivers as smooth as silk in front of live audiences – so smooth it's hard to notice when she speaks of jailing opponents.
"I found myself reading news copy that I didn't believe was fully truthful," she said in March 2021, announcing that she was quitting. "I've decided the time is right to do something else."
A few months later, Lake said she was running for governor – almost immediately launching herself into rightwing stardom.
In August, she defeated her GOP establishment-backed opponent to win the primary and managed to gain the support of the outgoing Republican governor, Doug Ducey, and the state's big Republican donors.
Instead of network crews, it is now her husband, Jeff Halperin, who serves as her videographer. An independent producer, Halperin trailed Lake and captured practically her every move, including combative exchanges with reporters to promote on social media.
Lake's platform in the race now contradicts her own from just a few years ago. In 2008, Lake was a registered Democrat and donated to the Democratic presidential campaigns of John Kerry and Barack Obama. In 2016, Lake proposed a plan to provide amnesty for undocumented immigrants. Today, she says she would declare an "invasion" at the southern border and evoked the white supremacist "great replacement" theory in describing immigrants.
Lake also told a conference of young, conservative women that "God did not create us to be equal to men."
Lake's broad appeal surprised both Democrats and moderate Republicans, especially given that many of her views are more fundamentalist and rightwing than those held by most Arizona voters. Former co-workers and friends have said they were alarmed by her sudden conversion to Maga Republicanism while political pundits have speculated over whether this transformation was genuine or a shrewd career calculation.
Regardless, it seemed to be working. Her almost daily campaign events had become a sensation. In recent weeks, her intimate receptions with donors, and her rallies alongside fellow rightwing politicians from across the country drew supporters across demographic groups.
Of all the far-right, Trump-endorsed Republicans on the ballot this election cycle, Lake had the most star power. Trump himself had told other candidates to be more like her. Republican insiders were already speculating that she could be Trump's vice-presidential nominee in 2024 or run for president herself.
"You can call me Trump in a dress any day," she told cheering crowds at a recent rally, embracing comparisons between herself to the former president.  Her opponent Secretary of State Katie Hobbs's quiet, at times stiff demeanor had been no match to Lake's larger than life persona.
Days before the election Lake pledged to be the media's "worst freaking nightmare for eight years" if she's elected, saying she would "reform the media."
She lit into a CBS reporter after he asked if she would serve a full term if elected, noting political rumors that she would be Donald Trump's running mate if he runs for president in 2024.
"I am going to not only be the governor of Arizona for four years," she said. "I am going to do two terms. I'm going to be your worst freaking nightmare for eight years, and we will reform the media as well. We are going to make you guys into journalists again."
Later she praised the election of neo-fascist Prime Minister Meloni in Italy noting "this is someone I can relate to."
There was a big gala all set in Phoenix as the votes came in.  The band was playing.  The candidate waiting.
Too close to call.
Then the news.
Lake lost.  Lost to the quiet candidate with the stiff demeanor.  The candidate who would not decertify Joe Biden's victory in Arizona.
Lake, the election denier, responded with a tweet.  "Arizonans know BS when they see it."  The response was ridicule and brutal trolling by Liz Cheney, Meghan McCain and other Republicans.  She still hasn't conceded.
Thank you, Arizona.