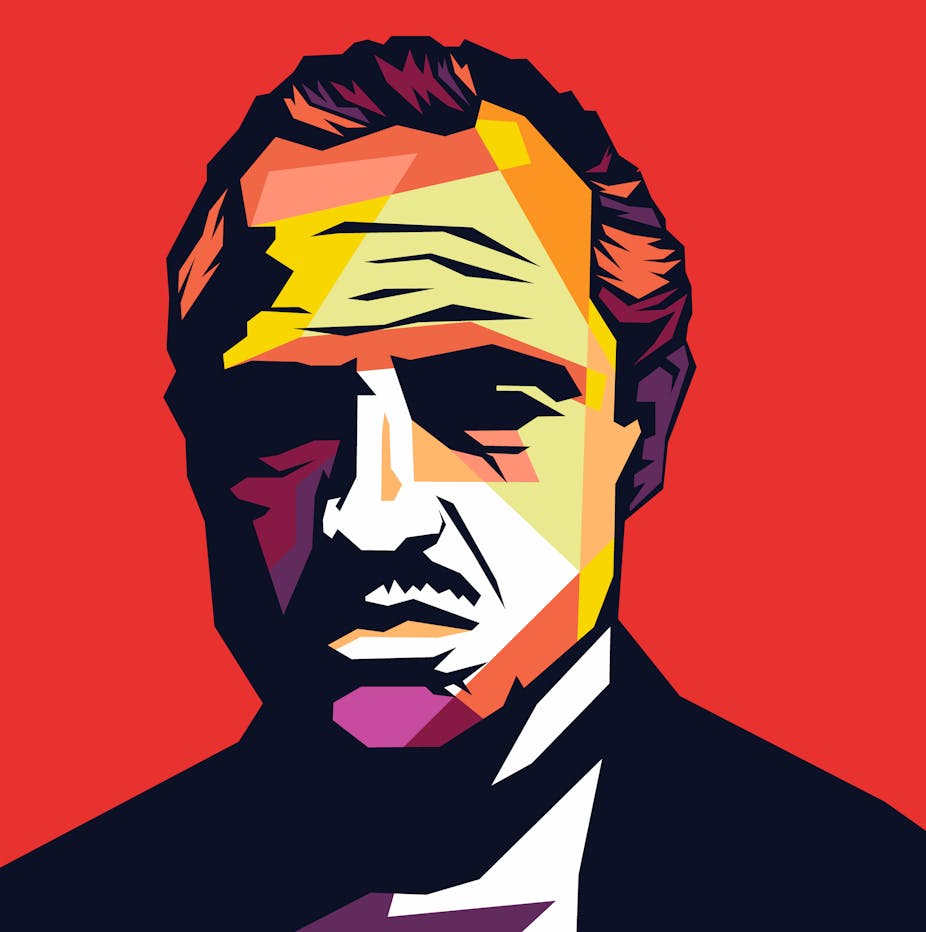 Fifty years or so ago a young Italian American married couple went to a movie one Saturday night in Staten Island.  We went to see The Godfather.
We were the children of immigrants living on an island in New York harbor populated by tens of thousands just like us.  Our families had moved from Brooklyn when the Verrazzano bridge opened and my wife and I settled there upon my discharge from the Army.
I didn't expect much from the film.  Brando was in it.  I liked his work but couldn't imagine him playing an Italian gangster.  Pacino was unknown.  As was Francis Ford Coppola.  I expected another Italian mafia movie – which is the way were always portrayed on film.
Now growing up in Italian American Brooklyn one learned early about guys who showed up at Sunday 11 o'clock Mass in a fleet of Cadillacs and were greeted at the door by the local Monsignor.  We lived in the land of Giuseppe "Joe" Profaci.
A little background for those of you who don't know, Profaci was born in 1897 in Palermo, and was a New York City La Cosa Nostra boss who was the founder of what is today known as the Colombo crime family. Established in 1928, this was the last of the Five Families to be organized. He was the family's boss for over three decades.
Every kid in the neighborhood knew where Mr. Profaci lived; he was a favorite trick or treat stop on Halloween.
Profaci obtained most of his wealth through traditional illegal enterprises such as protection rackets, extortion and porn.  However, to protect himself from federal tax evasion charges, Profaci still maintained his original olive oil business, known as Mama Mia Importing Company.   As the demand for olive oil skyrocketed after World War II, his business thrived.  Profaci owned 20 other businesses that employed hundreds of workers in New York.
Profaci owned a large house in Bensonhurst, Brooklyn, a home in Miami Beach, and an 328-acre  estate near Hightstown, New Jersey, which previously belonged to President Theodore Roosevelt. Profaci's estate had its own airstrip and a chapel with an altar that replicated one in St. Peter's Basilica in Rome.
Profaci was a devout Catholic who made generous cash donations to Catholic charities. A member of the Knights of Colombus, Profaci would invite priests to his estate to celebrate Mass.
In 1949, the Vatican received a petition from a group of New York Catholics to confer a knighthood on Profaci. However, when the Brooklyn District Attorney complained about the move, the Vatican demurred.
On Staten Island a "made man" lived next door to my mother-in-law. It was a quiet neighborhood.
So we went off to the movies one Saturday to see a flick we expected to be just another mafia film.  And we came out stunned with wonder, knowing we had seen a masterpiece; one of the greatest films ever made.
Looking back. it is surprising it was made at all.  Coppola was an unknown working with George Lucas looking to make a film.  Coppola had read Mario Puzo'sbook and was not impressed.  He thought it just a paper back novel good for beach reading but not a major film.  When they began to run out of money Lucas basically said "Look Francis we've got to make this film or close the doors".  Paramount bought the film rights from Puzo for $19,00.  Nice.
None of the folks with money for the film wanted Brando; most want Laurence Olivier.  No one ever heard of Al Pacino.  The money men wanted Redford.  Coppola insisted and got what he wanted but he was on the verge of being fired as the Director until the dailies began to impress everyone who saw them.
The film revolutionized the portrayal of organized crime by conflating it with something all audiences can relate to: family. a family running counter to the "bleached American family" that was all over TV in the 60s and 70s.
The starkness of composer Nino Rota's unforgettable trumpet solo signals a movement into a world where villains have values.  A place where a "primitive/sacred monster" could approve of gambling but think prostitution was infamia – a vile deed and morally wrong.
"Coppola's epic crime saga would do for Italian gangsters what the great Soviet filmmaker Sergei Eisenstein – director of Battleship Potemkin – did for Russian revolutionaries: lend the story a gravitas and epic grandeur that belied the brutality of the power struggles involved."  The film would set an immensely high bar for the gangster movies that followed.
The Godfather was a cultural marvel especially for those of us to Italians born.
The first lines – "I believe in America." When I asked my old grandfather Francesco before he passed away why he came here.  His answer?  "For you!"
My cousin Loretta's wedding – circa 1950 I am in the upper left quadrant between my mom and da.  My father is in a dark suit with what looks like a flower in his lapel.  I am seated between them looking up to the left at my dad.
The wedding.  Ah!  The wedding.  I had been to weddings like this.  The music, while new, so familiar.  Wearing their best.  Old aunts and uncles.  Tarantellas. Risque songs sung in Italian. The scene was shot in a home on Todt Hill in Staten Island.
The baptism scene was held at The Church of St. Joachim and St. Anne at the old Mt. Loreto Orphanage which I would pass everyday on my way to work.  The church later burned down and a portion of the land is now a cemetery where an aunt and cousins are buried.  The characters and their actions and the places are all understandable to me.
I guess I consider it one of the greatest films ever made because I know these people.
Today anything worth watching is streaming on television and the theaters are filled with Marvel and Disney.
"Leave the gun.  Take the cannoli."
.