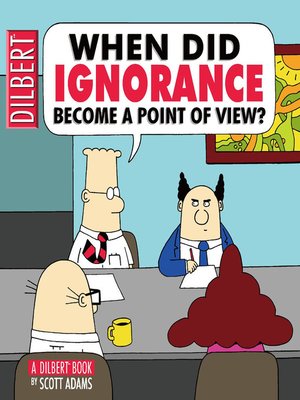 ." The earth is 4004 years old and Neanderthals roamed with dinosaurs."
"The wild winter in my state disproves global warming"
"The Constitution states that the official language of the United States is English"
Well………….no.
"When did ignorance become a point of view?" the cartoon character Dilbert once asked.  It's a question that has become increasingly resonant these days—especially in our public life, and especially in our political campaigns in which elected officials and those who seek election seem to assume a startling level of public ignorance. Perhaps that's smart."
Now there is a distinct difference between ignorance and just plain stupid.  Ignorance is, in common usage, a lack of knowledge. Stupidity is a mental dullness that indicates an inability to learn or a lack of interest in learning. One can be ignorant without being stupid although stupidity contributes to ignorance and sometimes it is hard to tell the difference.
In America, ignorance is thriving despite public education,  great advances in knowledge and the breathtaking increase in our ability to store and access information. Ignorance is flourishing – public ignorance of matters that are significant to all of us living our lives together.
"Such ignorance is removable, but the irony is that much of it we ourselves construct and sustain. Much of it is motivated, willful, often bolstered by false knowledge, and anchored by prejudice, privilege and ideology."
On climate change, Obama's birthplace,  his religion, healthcare, the Iran anti-nuclear deal and a host of other topics our leading pols have made false or highly misleading comments which seem to play to the snarky comments trolled on the internet and social media.  Calling out the lies and half truths does virtually nothing to stop the infusion of ignorance and hysteria they feed.
"Public ignorance is broader than the political: It embraces the historical, geographical, cultural, linguistic, scientific, quantitative, economic, aesthetic and religious—indeed, the whole range of knowledge one needs to understand the world.  Public ignorance in the U.S. (and we are not alone) is now so severe that the democratic ideal of an informed citizenry seems quaint. Some argue that certain industries and many politicians prefer an ignorant public."
"When the Ukraine conflict was at it's height, a respected survey asked Americans to locate the country on a map. ON AVERAGE, the responses were off by more than 1,800 hundred miles, putting Ukraine in Africa, Latin America or even Canada!  Geez!!  To make matters worse, the further the indicated location from where Ukraine actually is, the more likely the respondent was to advocate military intervention."
If one wants to shake his faith in democracy one needs only speak with a number of American voters.
When a legislator proposed that Vermont adopt a state motto in Latin, the blog responders displayed their ignorance: "No way! This is America, not Mexico or Latin America. And they need to learn our language!
Good god almighty.
"We have now developed a culture in which ignorance is celebrated, perversely flaunted as a badge of pride. This is not good ole American anti-intellectualism. It's deeper than that.  It involves not only the distrust of expertise and mainstream sources of information, but also the rejection of rationally relevant factors for adopting beliefs. It seems to abandon hard-won standards of knowledge and institutions like science that have served us since the Enlightenment and brought us the standard of living we enjoy today. Evidence and conclusions are accepted selectively or resisted stubbornly. Some adopt ridiculous conspiracy theories, believing they have the "real truth"—but this is false knowledge, ignorance in elaborate disguise."
It has been suggested that a number of factors contribute to this culture of willful ignorance: religious fundamentalism; the postmodern assault on ideals like truth and reason; corruption of pure science by "sponsored" research and profit motives; the conflation of news and entertainment; the media's faulty vision of what "balanced" coverage requires.
Today, with the advance in technology, we have enabled those so inclined to live in  a cozy informational cocoon in which they only experience familiar things that reinforce their preconceptions.  It is the triumph of the will over reason and the erosion of the concept of objective truth.
Truth no longer matters.  We can believe anything we want.  We have the "right to believe," secure in our own ideological commitments.
Thus the politics of fear – of what we might learn to despoil our beliefs.
"Finding the truth is difficult.  Accepting the truth is even more difficult."
.
——————————————————-
"