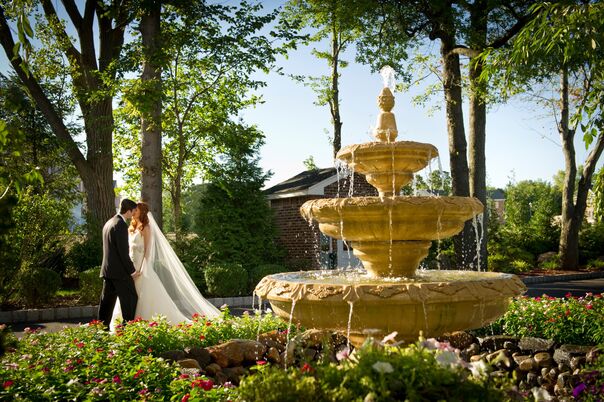 Maybe you saw old Toritto trudging through Newark airport this weekend. His plane landed at Gate 98, the absolute last gate in the terminal; a gate which might as well be in Philadelphia. In order to get to the baggage claim area Toritto had to hoof the long walk; the "people mover" floors being permanently "Under Repair".  And Toritto will not ride the golf carts for old people who can't make it – not yet anyway.
So he walked while trying not to bump into rude, inconsiderate young people who NEVER look up from their f..k..g phones while wearing head sets, totally oblivious to anyone.  They simply move straight ahead plunging through the crowd looking down as though entitled and without responsibility; we are supposed to get out of their way and avoid bumping into them or their dragged carry on luggage without even a bye your leave.  I know what you're thinking – Toritto is an old crank.
Now Toritto was going to the wedding – the wedding of his niece – his brother's daughter. His own daughters do not like the old man traveling alone – especially home to the New York metro area. They got very protective when their mother died a decade ago.
"You can go but you mustn't drive. No car rental!" was the essence of what I heard. His elder daughter was planning to accompany the old man until she heard the date. She and her hubby had tickets to the Rolling Stones concert in Orlando on that date. I don't blame her. I'd go see the Stones too.
So I promised I wouldn't drive – after all I am peripherally blind on my left so it's not like she doesn't have good point. Rural Florida is ok to drive but not northern New Jersey.
Toritto took a cab to the hotel – a hundred bucks each way. Daughter was right – the traffic was awful and I was glad I wasn't driving in it. It was still cheaper than renting a car for the weekend.
I would later discover that there were plenty of folks going to the wedding staying at the hotel. I just didn't recognize any of them. Our family is small and lives close by so none of them were in the hotel. My brother and I hadn't seen each other in ten years since I moved to Florida although we talk every few months. As we got older we travel less – things we used to do we simply don't do anymore. He checked and made sure I got to the hotel in one piece.
He still works – he will be 69 in September – and still treks down to Wall Street every day. I don't think he needs to – I think he wants to. I haven't worked in over a decade. I spend my time doing this; writing for those of you who waste your precious time reading me.
Transportation to the wedding venue was provided – giant white buses. That's when I found out how many of the invited were at the Hilton. Lots.
The wedding reception was held at a country club which hosts many corporate events as well as weddings and other occasions. I had been there before in my corporate life so I knew the venue was pretty up scale. Brother dropped a bundle.
On arrival I was immediately spotted by my Aunt, our mother's "baby sister" – now in her mid eighties and the last survivor. Other than a walker which she uses due to an auto accident years ago, she looked great. Spry and with it. I got a big hug, kisses from Auntie and cousins and the usual "You look marvelous !" Sure I do – but I think I look better than my younger brother! (Smiley face here).
My niece wore a stunning fitted dress (I should have asked where she got it) – she is tall and slender and the dress was classic. She really did look marvelous. The groom is taller than I expected – a good looking dude. He is a graduate of NYU Film School, has directed a number of shorts to good reviews and is currently working on his next project – under Robert De Niro. They live in the Village, and are going to Paris and Venice on their honeymoon.
Cocktail hour, seated dinner, Venetian hour, open bar, cigar bar with vodka shots for the guys, first class live music, transportation at the end. We closed it up at 1 A.M. and moved to the Hilton bar and closed it at three.
I ate too much. I drank too much. I smoked a couple of fine cigars, courtesy of my brother.
And I watched the procession of the living.
There is something poignant about attending weddings over the years. Maybe you attend your first one when you're a kid. Then you attend as a young person in your prime, the old timers being your parents, aunts and uncles.
Then suddenly you are the old timer.
I was probably the 3rd oldest person in attendance. The groom's grandfather was there as well as my aunt. Then I think I was next in the procession.
I watched and reminisced as sleek young women in their going to the wedding outfits in stilettos danced the night away with young guys while discreetly touching each other – as I used to do. Our younger brother would have been here too – but he is gone a decade this summer. As is my wife, who would have insisted I dance all the slow dances with her.
I got a warm welcome as the older brother of the father of the bride. Especially from the younger guys at the cigar bar when they found out who the old guy was.
My brother and I sat at the Hilton bar after the reception with lots of other folks. We have never sat at a bar together. He and I have had our differences, as do all brothers, over the years. I think we have made our peace.
So on three and a half hours sleep I headed back to Newark for the trip home.  It felt so good to get sneakers on my feet – those "Wall Street" black leather shoes were killing me.
.
————————————————-
.
—————————————
An old Italian song sung at weddings 60 years ago – always in Sicilian so us kids couldn't understand the lyrics.  Old timers would make up lyrics as the song kept going.